VHP's "Plumbing & Home Safety Inspection"
About Those Pesky, 'Too Easy To Forget' Home Maintenance Projects...
Do you find that it's so easy to put off household maintenance tasks that they never get done?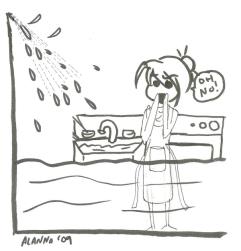 …Like fixing that irritating leaky faucet or drain before it runs up your water bill or causes damage?
…Or how about cleaning the lint clogging your clothes dryer - and making it take forever to get anything dry - before it causes a fire?
WITH A PLUMBING & HOME SAFETY INSPECTION YOU HAVE AN AFFORDABLE WAY TO HAVE PEACE OF MIND ABOUT THESE IMPORTANT HOME SAFETY CONCERNS THAT SHOULD BE DONE EVERY YEAR - AND OTHER TASKS INCLUDING PLUMBING REPAIRS!
VHP's Plumbing & Home Safety Inspection (one-time)….. $179
At the time of your visit, upgrade to the

VHP Club Plumbing & Home Safety (PHS) Option

. This includes an annual Plumbing & Home Safety Inspection visit (PHSI) for next year plus a year-round 10% discount on plumbing repairs & parts. You will get an immediate Bonus Discount of $44, which drops your price from $179 to $135
VHP Club (PHS) ………..……….$11.25 per month ($135 per year)
VHP Club (PHS) DELUXE.…….$16.25 per month ($195 per year)
The DELUXE Option provides 2 containers of Bio-Clean annually (a $100 value for only $60 more.)
P.S. Here are some of the items you can include on your customized list. If you don't see something on the list, ask us about it.
| | | | |
| --- | --- | --- | --- |
| | | | |
| Perform Plumbing Repairs* | | | Fire Extinguisher (Readiness) |
| | | | Smoke Alarms (Operability) |
| | | | |
| | | | Electrical (Grounding & Safety) |
| | | | Rain Gutters (clean if needed) |
* At 90 minutes, if there is anything still to undone you have the option to forego having it done or purchase additional labor time at a discounted rate in 1/2 hour blocks. Parts, fixtures & materials are extra. You can provide them or purchase them from us at a discount. (Please note: we do not warranty materials we do not provide.)
** Plumbing Inspection includes checking emergency shutoff for operability, checking for leaks, resealing leaking drain gaskets, checking for disconnected ground clamps, trap seals, flushing & trip lever function, etc.
*** Safety Inspection includes testing for carbon monoxide, exhaust leaks, negative air pressure (draft interference test), and combustion adjustments where possible.
To Enroll: Call us at (810) 985-7103 or toll Free (888) 985-7103