Maximize the value of your relationship with Vincent's Heating & Plumbing with our Enhanced Service Plan (ESP).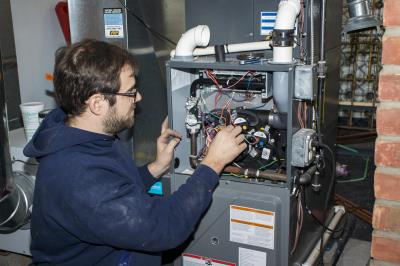 Start Your ESP Benefits By Saving $50 Off a Service or Maintenance Call, or Replacement!

For the next 12 months as a VHP Enhanced Service Plan client you'll get:
EXCLUSIVE ACCESS TO EXTENDED SERVICE HOURS
Year-round access to Extended Service Hours (daily until 10 pm) for emergencies - not available to the general public.
PRIORITY SERVICE
Priority access to service during normal working hours - same day or no later than next business day guaranteed.
ANNUAL CHECK UP
In 12 months we'll return for a 'wellness visit' to make certain your equipment is operating safely and delivering maximum performance.

The annual check up is a $199.20 value if purchased separately!

'NO NEGLECT' CHECK UP VISIT REMINDERS
VHP takes responsibility for setting up your annual check up when its due so you don't have to!
DISCOUNT SAVINGS
Save 10% off repair tasks for covered equipment. Save 10% off consumable maintenance items like filters, etc. Big savings for your eventual replacement of your furnace, boiler, or A/C with our $50 annual contribution to your ESP Replacement Bank
PEACE OF MIND
You'll rest easier knowing that the most important system to keep your family safe and comfortable is getting the attention it requires.
AS LOW AS 37¢ PER DAY
All of the above for a budget friendly $12.45 per month for each option or unit covered. ($11.40 each with 3 or more options!)
RISK FREE - NO LONG TERM COMMITMENT
There's no contract - you can cancel anytime!

SERVICE ACCESS, ANNUAL CHECK UPS & $50 OFF THE PRICE OR A CALL!
WHEN YOU GET VHP'S EXCLUSIVE ENHANCED SERVICE PLAN YOU GET ALL THE BENEFITS LISTED (INCLUDING THE ANNUAL CHECKUP!!) FOR $50* LESS THAN THE COST OF JUST AN ANNUAL CHECKUP PURCHASED SEPARATELEY! FOR EACH UNIT COVERED!
'ala carte' Annual Check Up Per Visit:
Furnace or Boiler Combustion Optimization & Safety Inspection (COSI) $199.20


Air Conditioner Performance Optimization & Cleaning (POC) $199.20


Plumbing & Water Heater Service (PWHS) includes Water Heater maintenance $199.20
Enhanced Service Plan fees per unit covered:
Heating system (furnace or boiler each) $12.45 per mo. or $199.20 per yr $149.40 per year
Cooling system (air conditioner each) $12.45 per mo. or $199.20 per yr $149.40 per year
Plumbing system (water heater) $12.45 per mo. or $199.20 per yr $149.40 per year
MINIMUM 25% SAVINGS ($49.80) PER UNIT COVERED!
"Bonus Savings: Get 3 Options For More Savings: Get One Month Free When You Get All 3 !"
To take advantage of the Enhanced Service Plan, call the office at 810-985-7103 or when you have a tech out, ask about the ESP program.