Why Choose a Certified Contractor?
You can count on us to do your diagnostic and repair work efficiently because our technicians are NCI (National Comfort Institute) certified.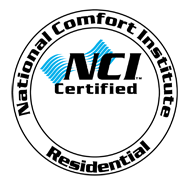 Why chose a NCI certified contractor?
For the same reasons most of us choose:
A certified public accountant to do our taxes

A certified realtor to sell our houses

An AMA-certified doctor to examine and treat us

A bar-certified lawyer to represent us in court
In all of these professions, the designations come to people who have studied, tested and achieved a level of competence that resulted in receiving a professional designation.

An NCI certified contractor in air diagnostics and balancing, or certified in carbon monoxide and combustion is no different. NCI certified contractors have attended classes, used specialized equipment and are constantly up-to-date on the latest diagnostic and repair techniques in these fields.
An NCI certified technician has passed a recognized testing process which validates his or her understanding of the technology and procedures used in this field. In addition NCI monitors their certified contractors and requires recertification every 2 years.
You might find a qualified uncertified contractor who could diagnose your comfort problem. You might also find someone who knows a lot about law who could represent you in court. The question is; does it make sense?