A Talking Thermostat That Makes Programming a SNAP!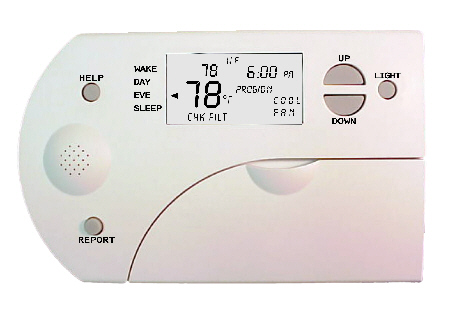 Vincent's Heating & Plumbing is an exclusive dealer for the inovative "Talking Thermostat". This unique product is designed to be the most user-friendly programmable thermostat on the market. It's ability to gently guide the user through set-up and temperature options makes it a perfect gift for elderly or visually impaired loved ones. The Talking thermostat comes with a Lifetime Warranty and offers more protection & comfort benefits than any other thermostat you can buy.
Here are some of the Talking Thermostat's "unbeatable" benefits:
EZ Read Display:

Oversized LCD characters make the display easy to read. The display can also be illuminated for enhanced user viewing.
E-Z Talk Thru Programming Instructions: Simple to follow verbal set up help for every situation and change you want to make. (Listen to Sample of Audio Directions)
Dirty Filter Alert: A warning is given and displayed when operating hours suggest checking the air filter. (Listen to Sample of Filter Alert)
Low Battery Alert: A warning is given and displayed when the batteries need to be replaced. (Listen to Sample of Low Battery Alert)
Temperature & Setting Report: Announces current indoor temperature and settings when the user presses the REPORT key…
Freeze Protection: System automatically calls for heat at 40º F (5º C) even if the batteries are dead or not installed.
Compressor Protection: 5 minute delay prevents short cycling damage. Delay can be overridden by pressing the UP & DOWN keys at the same time for 6 seconds.
"Armchair" Programming: Programming instructions can be entered before wall mounting.
Quick Program Override: Easily override any programmed temperature. System automatically resets at next program time.